Your Local Provider of Efficient Water Line Repair in Seattle, WA
Every home and business in Seattle, WA, and nearby areas requires an ample supply of safe potable water. A water line malfunction disrupts the water supply and creates a health and safety hazard. At Steady Flow Sewer & Drain, we provide water line repair & replacement in Seattle, WA, and nearby areas.
Thanks to our combined experience of over two decades we have become the go-to company for water line repair services. When you work with us, you get:
Licensing and certification
Locally-owned and operated
Get in touch with our team and find out all about our long-lasting water line services.
The Water Line Solutions We Offer
Water bill rising? Low water pressure? Maybe you've even noticed a little rust in your water glass. These are all signs that you are in need of a water line replacement. Steady Flow Sewer & Drain is here to provide the highest quality of service.
Steady Flow Sewer & Drain specializes in water line restoration and replacement. Metallic water lines become corroded and restricted over time and the health and functionality of a home can be compromised with an aged water line. Homeowners and businesses who are experiencing these issues can call on Steady Flow Sewer & Drain for prompt water line maintenance and repairs.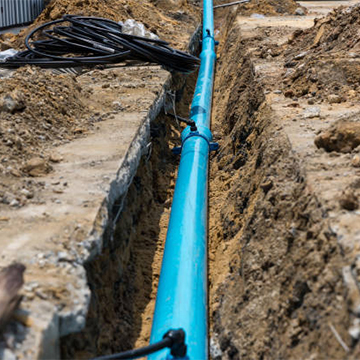 Water Line Services Done the Right Way
Water line assessment is crucial because it can determine problem areas and even prevent potential issues from springing up. When assessing water line conditions, the two options are direct and indirect. With the former, methods such as probes, sampling, and testing can be used. The latter involves methods such as studying failure history, investigating leakage levels, flow testing, and checking soil resistivity.
Subsequent repairs are carried out through the following methods:
Directional Boring

Typically done in three phases, directional boring involves drilling a small diameter pilot hole. After that, the hole is subsequently enlarged until it is big enough to accommodate the pipe that will be put in place. Lastly, the pipeline is pulled into place in the hole to create a continuous water line segment.

Spot Repair

Sometimes you don't need to replace the entire water mainline system. Steady Flow Sewer & Drain can repair the localized damage without prematurely replacing the whole system. A spot repair is an effective damaged water line repair method used to reinstate a section of your water system before it gets out of hand and causes damage to your property.

Trenching

In the unfortunate event that your water service line requires traditional trenching and installation, Steady Flow Sewer & Drain has the experience and the right tools to provide you with a broken water line repair procedure with minimal invasion on your day-to-day life. We utilize the highest quality machinery and piping materials to provide you with a brand-new water line that maintains a steady flow for the years to come.
Importance of Professional Water Line Repair
Professional repair of your damaged water line ensures a steady supply of safe drinking water. It also prevents the pipe from bursting. Our thorough water line inspection and repairs protect your property and minimize water damage.
Causes of Water Line Failure
Water line failure often results from shifting soil, heavy traffic, or nearby construction. Freeze and thaw cycles, corrosion from hard water, and improper water pressure also damage water pipes, necessitating a call to our water line repair company for immediate frozen water line repair services.
Once you notice one or more of the following signs, we recommend a water line installation or repair:
Cloudy or discolored water
Puddles in the basement or yard

Water stains on the foundation, walls, or flooring
A water line replacement or repair begins with the excavation of the pipe. We expose the damaged area, line or remove it and install a replacement pipe. During the emergency water line repair, we must turn off the water supply to your home or business.
I will forever be a fan of these guys and they will always be my 1st (and only) call for all things plumbing. They are quick problem solvers and are efficient on very large jobs and take time for maintenance. I appreciated the attention to the functional and human details. For example, making sure that our time without water service was most convenient based on our needs. They are also willing to explain the issues, show the work, and educate us on how to best keep things moving seamlessly. I am confident that things are done well and if I need help, they are a phone call away. Their professionalism and candor is unmatched, I'm glad businesses and interactions like this still exist. Bravo!
Destiny L.
My kitchen sink was backing up. Called a couple different providers in the area. They weren't able to come out same day. I got a hold of Kyle with Steady Flow Sewer Drain Co. he was able to come out same day and clear my drain. I would highly recommend, exceptional service. Thanks again, Kyle!
Danyellie B.
Dan and Kyle from Steady Flow were quick to respond, communicative, timely, professional, and very kind. I reached out to them after receiving an unreasonable quote from a large plumbing company and I'm so glad I did. Not only did they fix the issue for a fair price but they also took the time to explain the entire process. I can't say enough wonderful things about Dan and Kyle, would *definitely recommend* and will continue to rely on them for future services. Thank you so much!
S. Han
Kyle, the owner, answered our call late in the evening on a Friday and was out the next morning. He diagnosed our issue and fixed the initial problem quickly and let us know the options for repairing our main sewer drain. He was responsive and helped us navigate the City of Tacoma's sewer repair loan program and was more than willing to work with us as we waited for the loan to disburse.
Scott B.
Choose Steady Flow Sewer & Drain Co For All Water Line Needs
We have a solid reputation for cost-effective, precise, and reliable water line restoration services. Our company prioritizes customer satisfaction, integrity, and professionalism. Contact us at Steady Flow Sewer & Drain Co for an appointment today. We serve residential and commercial clients in:
A damaged water line isn't a problem you can sweep under the proverbial rug. Don't risk having it develop into a much more complex issue that's more expensive to repair. For a safe potable water line, trust only Steady Flow Sewer & Drain. Reach out to our team today! To schedule an appointment!