Our Complete Range of Sewer and Drain Services in Seattle, WA, and Nearby Areas
When you need sewer and drain services in Seattle, WA, or the surrounding areas, look no further than our reliable team at Steady Flow Sewer & Drain. With over 20 years of combined experience in the industry, we have the know-how to give you the level of sewer and drain services you deserve. And with our licensed and insured team, we're certain to get the job done right the first time around.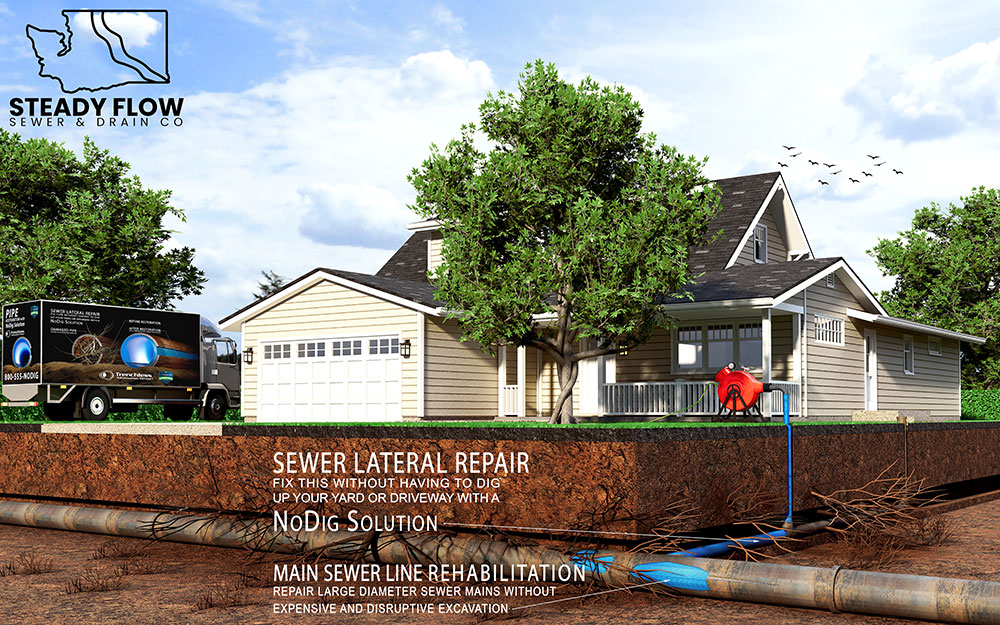 As a locally owned and operated sewer and drain company, we take pride in our work and stand behind what we do. We are part of the community which is why we make it a point to deliver excellent sewer and drain cleaning services each time you contact us. Our team invests in the latest tools and technology for repairing and cleaning drains and sewer lines, and we provide premium quality services at reasonable prices.
We handle everything related to your drains and sewer line.
Our sewer and drain specialist team can quickly address urgent issues and provide peace of mind. We offer:
Let Our Team Provide the Answer to Your Sewer and Drain Concerns
With over two decades of collective experience in the industry and through consistent quality services, we have built a solid reputation for honest assessments, hard work, and consistent communication. As a top sewer and drain service provider, we prioritize satisfaction, and we go above and beyond your expectations for reliable water line, sewer and drain inspection and repairs.
Contact Our Reliable Sewer & Drain Experts Today!
From drain cleaning to water line and trenchless sewer repair, we are the sewer and drain experts that can handle all of your needs. We arrive on time, provide you with upfront pricing and treat you and your property respectfully. For more information about our sewer and drain maintenance and repair services, reach out to us at Steady Flow Sewer & Drain today. You may also call our team or fill out the form for an appointment.
"Would 100% recommend this company to everyone I know. Quick response time and very professional."
Denise K.
Kent, WA
"My kitchen sink was backing up. Called a couple different providers in the area. They weren't able to come out same day. I got a hold of Kyle with Steady Flow Sewer Drain Co. he was able to come out same day and clear my drain. I would highly recommend, exceptional service. Thanks again, Kyle!"
Danyellie B.
Gave us a great price, and great service. They showed up when they said they would and let me know when they wouldn't be there. Did the job well and within the time frame provided. I will be using them again!
Allison T.
San Francisco, CA