Top-Notch Drain Cleaning in Seattle, WA, and Nearby Areas
Drains transport the wastewater generated by your home or business into the sewer system. A problem with your drain not only causes an inconvenience but may quickly lead to water damage, foul odors, and health and safety issues. When you need dependable drain cleaning in Seattle, WA, look no further than Steady Flow Sewer & Drain.
With over 20 years of combined experience in the industry, we have come to be the go-to name for all services sewer and drain related. Over the years, we've worked with the largest sewer and drain providers in the Seattle area to provide top-notch services. When you work with us, you can rest easy knowing that we are:
Drain Cleaning: How the Pros Do It
Preventive drain cleaning removes all of the buildup, clogs, or stuck objects in the drain opening and pipe. Our technicians identify the best method to clear the drain blockage all while operating within the confines of industry standards and plumbing codes. We offer snaking, water jetting, and augering to rid your drain and pipe of stubborn clogs. Our drain cleaning company works on all types of drains in Emerald City, including:
The Key Advantages of Professional Drain Cleaning
Our water jetting and drain snaking services ensure that all the wastewater from your home or business reaches the city sewer line. The sewer and drain cleaning process eliminates foul odors, annoying gurgling, and pooling of dirty water in plumbing fixtures. Keeping your drains clear of debris also protects the pipes and reduces the risk of cracks and sewage backups in your home or business. Routine drain maintenance services ensure that your plumbing system lasts and minimizes the need for emergency repairs.
Call in the Drain Cleaning Pros You See These Signs
When you have a clogged drain, it serves as an indication that it needs attention from drain cleaning experts. A drain clog won't fix itself, so if you notice any of the following signs, you need a prompt drain cleaning service:
Tall or unusually green grass near the drain or sewer line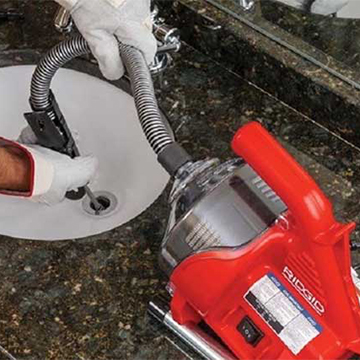 Why Professional Drain Cleaning is Better Than DIY Methods
Many local home and business owners try to save money by attempting DIY drain cleaning solutions. However, this almost always results in a worse problem that requires further emergency drain cleaning services. Drain cleaning chemicals sold in home improvement and big box stores contain harsh chemicals that damage plastic pipes and injure the eyes and skin. Improper use of a drain snake or auger could crack, shift or break the pipe. Our crew uses professional-grade hydro jetting and snaking equipment to safely and effectively clear the clog from your drain.
Among the drain cleaning solutions you can avail of are:
Drain Snaking - Also known as cabling, snaking is a common drain cleaning method that makes use of long, thin augers that are flexible enough to be inserted in drains to reach and dislodge stubborn clogs.
Water Jetting - Preceded by a thorough video inspection to determine the exact location and extent of clogs, water jetting involves a special nozzle that is inserted into drains for drain-clearing purposes. It sprays high-pressure jets of water to do this and is a preferred method among homeowners and drain cleaners because of its many advantages over traditional methods.
Augering - Where drain snaking is commonly used to pull out clogs, augering is more for breaking apart and forcing through blockages. Augering is also done on larger-scale pipes as opposed to snaking which is used more for smaller indoor drain lines.
I will forever be a fan of these guys and they will always be my 1st (and only) call for all things plumbing. They are quick problem solvers and are efficient on very large jobs and take time for maintenance. I appreciated the attention to the functional and human details. For example, making sure that our time without water service was most convenient based on our needs. They are also willing to explain the issues, show the work, and educate us on how to best keep things moving seamlessly. I am confident that things are done well and if I need help, they are a phone call away. Their professionalism and candor is unmatched, I'm glad businesses and interactions like this still exist. Bravo!
Destiny L.
My kitchen sink was backing up. Called a couple different providers in the area. They weren't able to come out same day. I got a hold of Kyle with Steady Flow Sewer Drain Co. he was able to come out same day and clear my drain. I would highly recommend, exceptional service. Thanks again, Kyle!
Danyellie B.
Dan and Kyle from Steady Flow were quick to respond, communicative, timely, professional, and very kind. I reached out to them after receiving an unreasonable quote from a large plumbing company and I'm so glad I did. Not only did they fix the issue for a fair price but they also took the time to explain the entire process. I can't say enough wonderful things about Dan and Kyle, would *definitely recommend* and will continue to rely on them for future services. Thank you so much!
S. Han
Kyle, the owner, answered our call late in the evening on a Friday and was out the next morning. He diagnosed our issue and fixed the initial problem quickly and let us know the options for repairing our main sewer drain. He was responsive and helped us navigate the City of Tacoma's sewer repair loan program and was more than willing to work with us as we waited for the loan to disburse.
Scott B.
Top FAQs About Drain Cleaning
Why Hire the Steady Flow Sewer & Drain Crew
When we provide drain cleaning solutions, we operate with integrity and professionalism. With our unrivaled commitment to customer service excellence, we continually give our crew rigid training to keep us up-to-date with the latest and most effective drain cleaning methods. When you hire us to clean your drains or to conduct sewer repair in Seattle, WA, you benefit from our:
Effective and safe methods
Helpful advice on avoiding drain problems
Give Us a Call for Clean and Clear Drains All Year Round
Our drain cleaning services are designed to restore your drain pipe's full capacity. We eliminate the foul odors, gurgling, pooling, and other problems associated with clogs, and we prevent damage to the drain pipe. Learn more about the importance of professional drain cleaning or schedule an appointment with one of our technicians when you contact us at Steady Flow Sewer & Drain. Schedule a drain cleaning assessment by calling us or filling out the online form today!