Top-Notch Hydro Jetting in Seattle, WA
When your drains empty slowly, smell, or don't empty at all, turn to us at Steady Flow Sewer & Drain for hydro jetting in Seattle, WA, or nearby areas. We also offer this service so that you can avoid major plumbing catastrophes, such as sewage backups and more. Our knowledge of high-pressure plumbing issues, efficient equipment, and respect for your time and property make us the trusted providers of this all-important cleaning service.
Hydro jetting is more than just a drain cleaning process. It involves the use of water pressurized with air. Our truck contains a pump that adds air to water. Through our highly-efficient high-pressure hydro jetting techniques, we are able to remove all types of clogs and obstructions without using blades or chemicals. Among the many advantages this process has over traditional drain cleaning methods are:
Environmental friendliness
Importance of Hydro Jetting
Clogs cause sewage to back up into your home or building. A sewage backup leads to extensive damage and hazardous conditions. Hydrojet drain cleaning services prevent this from happening and keep your sewer line operating at full capacity. Over time, various debris can get lodged in your pipe lines. Couple that with soap scum, oil and grease, and mineral deposits from hard water, and you've got a recipe for disaster. Through hydro jetting, you can clear away all impurities. Thanks to the high-pressure jets of water utilized in this drain cleaning method, you can have free-flowing pipes all year round.
If you notice any of the following signs, we recommend sewer jetting:
Water pooling in multiple drains

Gurgling or bubbling drains
Unusually green or tall grass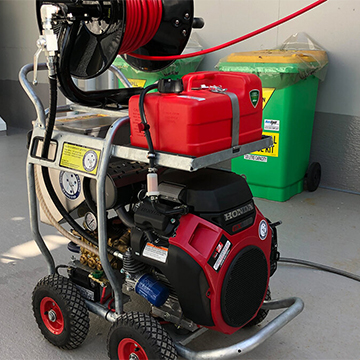 All these are clear indications of compromised pipe lines and complex plumbing issues. Through hydro jetting, the interior of these pipe lines is cleared thoroughly, leaving no trace of impurities that may end up causing various problems. Sewage won't back up because the sewer lines are clear, you won't hear gurgling or bubbling drains because there are no obstructions, and you won't have to worry about sewage odors due to severe clogs.
Common Causes Of Sewer & Drain Pipe Blockages
Tree roots cause a majority of drain and sewer line issues. Fats, oils, and grease also create obstructions in sewer pipes. Over time, they can settle in the drain lines and attract other debris that can develop into severe clogs. Hair, soap scum, food debris, excessive toilet paper, diapers, baby wipes, hygiene products, and foreign objects also create drain and sewer pipe blockages that require high-pressure drain cleaning. Always remember that most of these aren't easily dissolved in water and, when combined with other debris, can develop into issues that can seriously compromise your pipe lines. Through regular drain cleaning sessions, you ensure that any clog-causing debris is flushed out of your pipe lines.
To hydro jet your pipes, we turn on the pump in our pipe jetting utility vehicle and connect a hose to your water supply. We insert the hose into your sewer line connection. The hose delivers pressurized water. Our sewer line jetting hose also includes a camera connected to a monitor we hold during the process, so we can observe the clog and the hydro jetting progress.
I will forever be a fan of these guys and they will always be my 1st (and only) call for all things plumbing. They are quick problem solvers and are efficient on very large jobs and take time for maintenance. I appreciated the attention to the functional and human details. For example, making sure that our time without water service was most convenient based on our needs. They are also willing to explain the issues, show the work, and educate us on how to best keep things moving seamlessly. I am confident that things are done well and if I need help, they are a phone call away. Their professionalism and candor is unmatched, I'm glad businesses and interactions like this still exist. Bravo!
Destiny L.
My kitchen sink was backing up. Called a couple different providers in the area. They weren't able to come out same day. I got a hold of Kyle with Steady Flow Sewer Drain Co. he was able to come out same day and clear my drain. I would highly recommend, exceptional service. Thanks again, Kyle!
Danyellie B.
Dan and Kyle from Steady Flow were quick to respond, communicative, timely, professional, and very kind. I reached out to them after receiving an unreasonable quote from a large plumbing company and I'm so glad I did. Not only did they fix the issue for a fair price but they also took the time to explain the entire process. I can't say enough wonderful things about Dan and Kyle, would *definitely recommend* and will continue to rely on them for future services. Thank you so much!
S. Han
Kyle, the owner, answered our call late in the evening on a Friday and was out the next morning. He diagnosed our issue and fixed the initial problem quickly and let us know the options for repairing our main sewer drain. He was responsive and helped us navigate the City of Tacoma's sewer repair loan program and was more than willing to work with us as we waited for the loan to disburse.
Scott B.
Our drain cleaning company operates with the highest level of integrity and professionalism. When you call on us for water pressure cleaning, you'll also benefit from our:
20 years of combined experience

Fully licensed, certified, and insured
Convenient appointment times

Helpful advice on preventing drain and sewer problems
Find Out if Hydro Jetting Is What Your Pipes Need
As the area's premier hydro jetting company, our services ensure that all the drains in your home or business operate correctly. Hydro jetting prevents foul odors, wastewater backups, and pipe damage. To learn more about the hydro jetting process or to schedule an appointment, contact us at Steady Flow Sewer & Drain today. We serve:
The Steady Flow Drain & Sewer team boasts over two decades of collective experience in the industry. With our expertise and unwavering commitment to superior customer service, we're sure to give you the most bang for your buck. We're the ones your neighbors trust to do all their plumbing-related work. Reach out to us and schedule a hydro jetting procedure today!