Drain Cleaning Company Red Flags to Stay Away From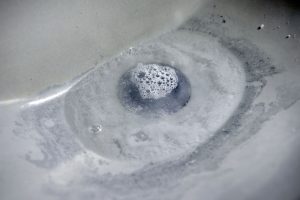 It is unpleasant to have a blocked drain. It can cause water and waste materials to back up and result in flooding, and foul smells permeating your home. That's why choosing the right company to handle drain cleaning in Seattle, WA, is crucial.
To help you select the drain cleaning company you can rely on, Steady Flow Sewer & Drain highlights below the common red flags that will help you eliminate the disreputable ones.
Lack of Experience
One of the significant red flags is a lack of experience. A newbie company is almost certain to lack the expertise to handle plumbing tasks–whether traditional methods like drain snaking or advanced ones like hydro jetting. You don't want to have frequent repairs on your drain as it's costly. Always choose a company with years of experience to ensure that the job is done the first time correctly.
No License or Certification
Another red flag to watch out for is the lack of a proper license or certification. An unlicensed company offering drain cleaning services may lack the necessary training, experience, or tools. Always check if the company has the necessary license and certificate to operate in your area.
High-Pressure Sales Tactics
Beware of companies that use high-pressure sales tactics. These companies may use scare tactics like an emergency clogged drain, even if it's not. Trustworthy companies will provide you with honest and transparent advice. This gives you time to make informed decisions.
Inadequate Tools and Techniques
A reliable company should have the latest drain cleaning tools and techniques. One that relies on outdated methods may not be equipped to handle tough clogs. Choose a company that uses the latest equipment and methods like hydro jetting.
Always watch out for these red flags to avoid a substandard experience with a drain cleaning company. At Steady Flow Sewer & Drain, we have years of experience providing superior-quality plumbing services. We also use the latest technology and techniques to handle even the most difficult clogs.
Contact us today to schedule a drain cleaning appointment and experience top-quality service!
"Would 100% recommend this company to everyone I know. Quick response time and very professional."
Denise K.
Kent, WA
"My kitchen sink was backing up. Called a couple different providers in the area. They weren't able to come out same day. I got a hold of Kyle with Steady Flow Sewer Drain Co. he was able to come out same day and clear my drain. I would highly recommend, exceptional service. Thanks again, Kyle!"
Danyellie B.
Gave us a great price, and great service. They showed up when they said they would and let me know when they wouldn't be there. Did the job well and within the time frame provided. I will be using them again!
Allison T.
San Francisco, CA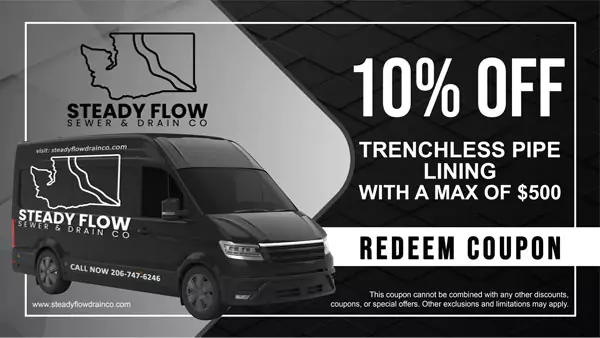 Contact Our Team for an Appointment
Our trenchless company prioritizes your satisfaction with our work. We strive to be your trusted provider of all drain and sewer line services, and we look forward to serving you. For more information about trenchless pipe lining or to arrange an appointment, call us at Steady Flow Sewer & Drain or fill out the online form today.