Is It Time for a Sewer Line Replacement?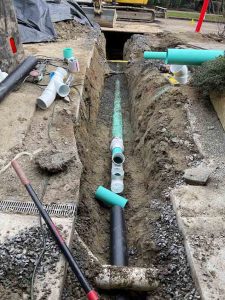 It's a major headache to deal with sewer problems and sewer repair in Federal Way, WA, to be honest. Sewers stink and it's hard to tell what's going on because they are running underground. If the issues are recurring and getting worse, you may need to get a sewer line replacement.
The biggest issue with sewers is the difficulty of uncovering the problems underneath. When is it time to repair or replace your sewer line? What signs do we look for?
If you need to get the drain cleaning job done right, call the experts who have the experience for this specific job: Steady Flow Drain Co. in Federal Way, WA.
Be on the lookout for the following major red flags:
Drain overflow
Drains have to flow out smoothly and eliminate dirty water and sewage wastes out, not back in. If something is causing the blockage, you'll need drain cleaning services from the inside. This is a serious issue that can cause flooding and contamination if left unchecked.
Slow-flowing drains
If your drainage system is stalling, you could have internal clogged drains or damage somewhere in the sewer pipe. Pay close attention to how easily water flows out towards the sewer. There must be nothing stopping or stalling the flow.
Water backing up
This problem is more advanced than drain overflows and slow-moving drainage. You may experience this from a toilet or a floor drain that has blockage problems. Avoid water damage to your property and health issues, and call reliable sewer repair services.
Bad odors that leak
Out of all the sewer line red flags, this problem will surely get your attention. When sewer lines are damaged, leaking dirty water and foul smells follow. Sewers smell like a disaster, and can also cause health problems. Get professional help if you already need a sewer line replacement.
Green spots around the lawn area
If you see growing green patches around your sewer area, it is a sign of sewer leakage. It could be a minor leak or serious damage growing underground.
As homeowners, our best bet against sewer problems is to be aware of the signs and take action right away. Deal with sewer problems now unless you want to end up with a bigger headache and bigger costs to pay. Call an expert drain cleaning company such as Steady Flow Drain Co. to know what your best options are: repair or replacement.
"Would 100% recommend this company to everyone I know. Quick response time and very professional."
Denise K.
Kent, WA
"My kitchen sink was backing up. Called a couple different providers in the area. They weren't able to come out same day. I got a hold of Kyle with Steady Flow Sewer Drain Co. he was able to come out same day and clear my drain. I would highly recommend, exceptional service. Thanks again, Kyle!"
Danyellie B.
Gave us a great price, and great service. They showed up when they said they would and let me know when they wouldn't be there. Did the job well and within the time frame provided. I will be using them again!
Allison T.
San Francisco, CA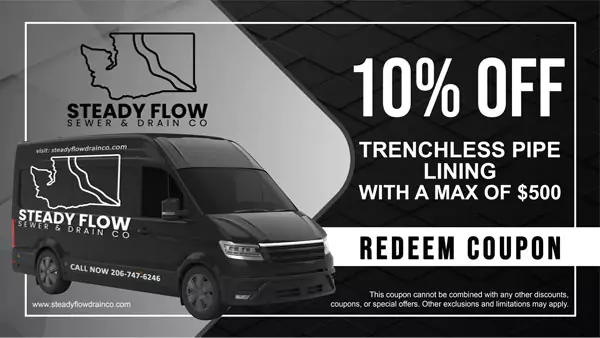 Contact Our Team for an Appointment
Our trenchless company prioritizes your satisfaction with our work. We strive to be your trusted provider of all drain and sewer line services, and we look forward to serving you. For more information about trenchless pipe lining or to arrange an appointment, call us at Steady Flow Sewer & Drain or fill out the online form today.