Ways to Maintain a Healthy Sewer Line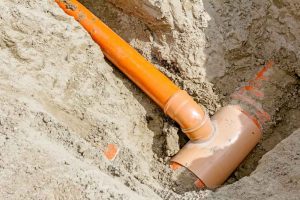 A healthy sewer system is crucial for maintaining a clean, safe, and hygienic living environment. Steady Flow Sewer & Drain has years of experience in providing effective sewer repair in Federal Way, WA, and here are the top tips our expert team always recommends to keep your sewer line in good condition.
Practice proper waste disposal.
Your drains are not garbage bins and should not be treated as such. Avoid flushing non-biodegradable items down the toilet to prevent troublesome clogs and blockages. Grease and oil should be disposed of in the trash instead of poured down the kitchen sink drain.
Make scheduling preventative maintenance checks a habit.
Regular maintenance checks make it possible to catch and address potential problems early. A trained and experienced professional can perform a camera inspection of your sewer line to detect any leaks or blockages before they become serious issues that can result in costly sewer line replacement.
Plant trees away from the sewer lines.
Trees and plants are essential for a healthy, vibrant landscape. But when placed too close to your sewer line, their roots can penetrate the pipe walls and cause blockages or difficult-to-repair breaks. Plant trees and shrubs at least 20 feet away from the sewer line.
Steady Flow Sewer & Drain is your go-to company for reliable sewer repair services. We are here to help you maintain a healthy sewer system for many years. Contact us today to schedule an appointment.
"Would 100% recommend this company to everyone I know. Quick response time and very professional."
Denise K.
Kent, WA
"My kitchen sink was backing up. Called a couple different providers in the area. They weren't able to come out same day. I got a hold of Kyle with Steady Flow Sewer Drain Co. he was able to come out same day and clear my drain. I would highly recommend, exceptional service. Thanks again, Kyle!"
Danyellie B.
Gave us a great price, and great service. They showed up when they said they would and let me know when they wouldn't be there. Did the job well and within the time frame provided. I will be using them again!
Allison T.
San Francisco, CA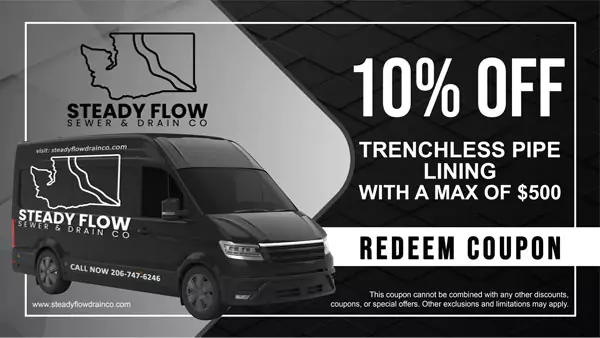 Contact Our Team for an Appointment
Our trenchless company prioritizes your satisfaction with our work. We strive to be your trusted provider of all drain and sewer line services, and we look forward to serving you. For more information about trenchless pipe lining or to arrange an appointment, call us at Steady Flow Sewer & Drain or fill out the online form today.