Is It Time to Get Your Drains Professionally Cleaned?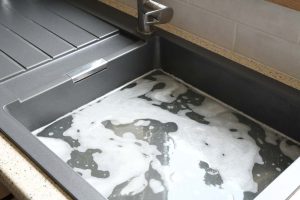 It's easy to overlook the need to have your home's drains professionally cleaned. But when it's been a while since you've had them checked out, you could be putting yourself at risk for damage to your piping system and clogs that could lead to more issues. Our Steady Flow Sewer and Drain team shares a few telltale signs that it's time for expert drain cleaning in Federal Way, WA.
Gurgling Noises
These unusual sounds occur when air is trapped in the pipes. It could be caused by something lodged near the drain opening or a blockage further down the pipeline. When water flows through the clogged or restricted drains, it displaces the trapped air, causing a gurgling sound. Professional plumbers can use hydro jetting to promptly address the underlying problem.
Sewer Smells
Foul odors emanating from sinks, toilets, or other plumbing fixtures often suggest a buildup of organic matter in the sewer line. This can cause bacterial growth and other hazardous materials, negatively impacting your health. An experienced plumber can identify and remove any blockages found in the drain line, eliminating these odors.
Slow-Moving Drains
The accumulation of hair, soap scum, grease, or other debris in the pipes is often to blame for water that takes forever to drain. Drain snaking can break up these clogs and allow water to flow freely.
When you need efficient and affordable drain cleaning services, Steady Flow Sewer and Drain is the team you can trust. Contact us today to schedule an appointment.
"Would 100% recommend this company to everyone I know. Quick response time and very professional."
Denise K.
Kent, WA
"My kitchen sink was backing up. Called a couple different providers in the area. They weren't able to come out same day. I got a hold of Kyle with Steady Flow Sewer Drain Co. he was able to come out same day and clear my drain. I would highly recommend, exceptional service. Thanks again, Kyle!"
Danyellie B.
Gave us a great price, and great service. They showed up when they said they would and let me know when they wouldn't be there. Did the job well and within the time frame provided. I will be using them again!
Allison T.
San Francisco, CA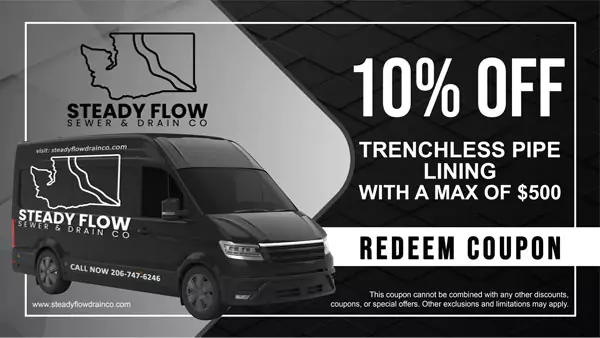 Contact Our Team for an Appointment
Our trenchless company prioritizes your satisfaction with our work. We strive to be your trusted provider of all drain and sewer line services, and we look forward to serving you. For more information about trenchless pipe lining or to arrange an appointment, call us at Steady Flow Sewer & Drain or fill out the online form today.