How Does Hydro Jetting Work?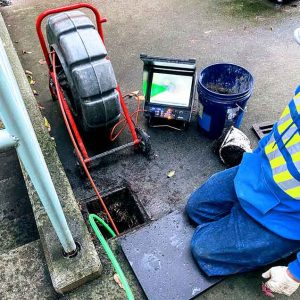 Clogged pipes are the most common sewer problems that need drain cleaning in Seattle, WA. There are many reasons why blockages happen depending on what entered the sewage lines and how they interact within.
One of the most effective ways to solve this dilemma is through hydro jetting. It uses high-pressure water jet streams to carve out the problem from inside your sewer pipe and restore normal outgoing sewage flow.
Steady Flow Drain Co. offers hydro jetting for quick and effective drain cleaning services. Find out more about hydro jetting and why homeowners demand it for their sewer issues.
The Hydrojetting Process
The first step in using a hydro jet is to analyze the sewer pipe and clogged drains to pinpoint the cause of the blockage. Once the blockage is located and categorized, the technician looks for the best entry point so that the powerful jet stream cleans the pipe and pushes out the problem at the same time.
Next, the right level of air pressure and spray levels are set. The jet stream cleaning commences and the blockage is expelled, while the whole pipe system is cleaned of any other traces of debris and wastes in the surface lining.
Why Hydrojetting Is Crucial
High-pressure water jet streams are one of the most effective ways of cleaning surfaces. The combined power of air and water is effective in clearing solid and liquid blockages away from the inner sewer linings.
The hydro jetting process is also more convenient than other methods. It prevents direct surface damage inside the sewer pipes. The process is also faster because of the forward force of the jetstream to clear the blockages and push them towards the exit of your drainage.
In some cases, hydro jets are not advisable for old sewer lines prone to further damage. Technicians use drain snaking instead, using a long, flexible drain cleaning tool to remove the obstruction inside the pipe.
Whatever issues caused a clog in your sewer pipe, you can count on the hydro jet process. It is faster, safer, and more convenient than other clog-clearing methods. But you need a drain cleaning company with particular expertise in its proper use. It's time to call Steady Flow Drain Co. in Seattle WA to make sure the job is done right!
"Would 100% recommend this company to everyone I know. Quick response time and very professional."
Denise K.
Kent, WA
"My kitchen sink was backing up. Called a couple different providers in the area. They weren't able to come out same day. I got a hold of Kyle with Steady Flow Sewer Drain Co. he was able to come out same day and clear my drain. I would highly recommend, exceptional service. Thanks again, Kyle!"
Danyellie B.
Gave us a great price, and great service. They showed up when they said they would and let me know when they wouldn't be there. Did the job well and within the time frame provided. I will be using them again!
Allison T.
San Francisco, CA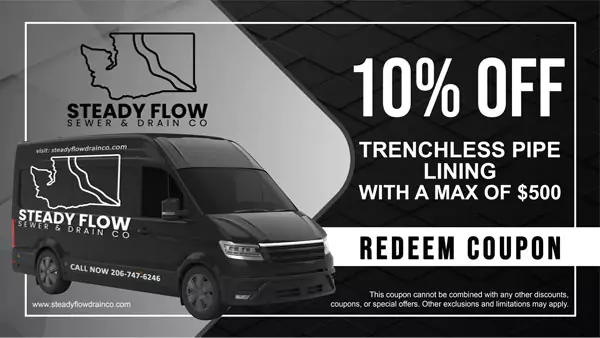 Contact Our Team for an Appointment
Our trenchless company prioritizes your satisfaction with our work. We strive to be your trusted provider of all drain and sewer line services, and we look forward to serving you. For more information about trenchless pipe lining or to arrange an appointment, call us at Steady Flow Sewer & Drain or fill out the online form today.